A New Data Center Model Needed
The nextgen Data Center Architecture is based on the principle that by making the right investment in the infrastructure, CIOs can dramatically increase productivity and efficiency while improving business resilience, reducing costs, and aligning with critical mission priorities. It provides a system-level framework that addresses data center demands for consolidation and business continuance in the short term while targeting Infrastructure Services and Application Services inplementation to enable emerging Service-Oriented Architectures (SOAs) and On-demand, Software as a Service (SaaS) Cloud Computing technologies. The DC Architecture framework described in the report, outlines how enterprises can evolve to an Intelligent Information Network that optimizes applications, business processes, and resources.
IMEX Research has established a series of metrics that the next generation data center architecture approach must provide and provides detailed guidance for IT infrastructure vendors IT purchase decision makers on how to optimally deploy compute, storage, intelligent information networks and software technologies that best support their mission needs through optimizing IT resources and business processes.
IT Trends driving NexGen Data Center

There are 5.1 million data centers in opration, worldwide. Some of the key data centers statistics and trends include:
• Costs
– $100-175M to build a large data center in 2007
– ~$1005/Sqft, $40,000/Rack, $2,500/Server, 2.5U
– 82% of installed equipments (Srvr,Stg,Ntwk) have only10% utilization.
– For every $1 invested in new IT infrastructure, $7 are being spent to maintain it
– For every $1 in new Server spending, 50c goes to Power & Cooling costs.

• Consolidation
– IT Mega Data Centers and Collocation Data Centers
– Data & Video Info Vaults at Service Providers
– Virtual Servers growth will outstrip growth of Physical servers by 50% with an associated rise in managing virtual servers
• Trends requiring New Technologies Adoption as a Competitive Weapon.
– High Performance online Business and Technical Computing (HPC)
• Multicore CPUs
• Hi Density Blades integrating Servers, Storage, Networking and Data Management
– Industry Standard Computing Infrastructures
• x86 Architecture, PCI Express, 10Gb Ethernet with TOE/RDMA, SAS/SATA
– Convergence (Voice Video, Data)
• Unified Communications, VoIP, Storage over IP
• Conectivity needing High Bandwidth (10GbE) and low latency (less than 1ms)
• Video (You Tube etc) and Audio Streaming Commonplace with Global Reach, Requires QoS: - MPLS
– Convergence (Voice Video, Data)
– Explosion in Demand for Storage Capacity
• TB Disks
– Mobility & Wireless creating Demand for "Always On" infrastructure
• Continuous Data Availability
SIVA for a scalable, dynamic On-Demand NGDC
The architectures must leverage the hardware standardization, integration and consolidation, virtualization, provisioning and automation of resources (servers, storage, networking and software) to deliver application services. Further this architecture would need to optimize for always on availability, business processes efficiencies to provide derived business intelligence, security, collaboration and regulatory compliance while embracing and leveraging emerging technologies such as Blade Servers, Virtualization, IP Connectivity, Resiliency and rapid disaster recovery.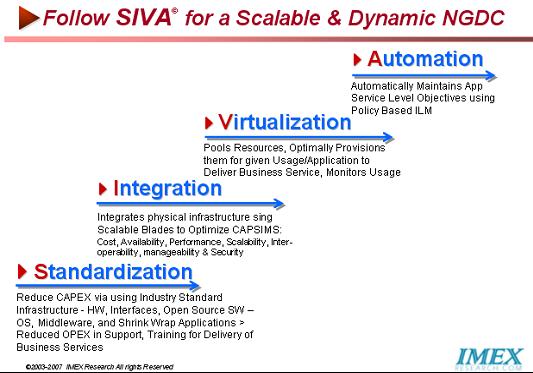 Consolidating your IT Infrastructure using Virtualization
Virtualization is a major disruptive technology of great transformational potential in delivering compelling benefits of significantly improving TCO and ROI in IT organizations. (1) Creating a framework of goals and metrics in choosing and implementing virtualization and blades servers resources for NGDC (2) Creating a TCO/ROI model for business justification (3) Criterion for Emulation vs. Host based Virtualization, Host hardware platform, Storage, Network and Power/Cooling Considerations (4) Planning for software licensing issues (5) Selection of tools for P2V migration, performance and resource utilization monitoring and management (6) Cascades selection of applications/workloads to port to achieve optimal cost savings and data center efficiency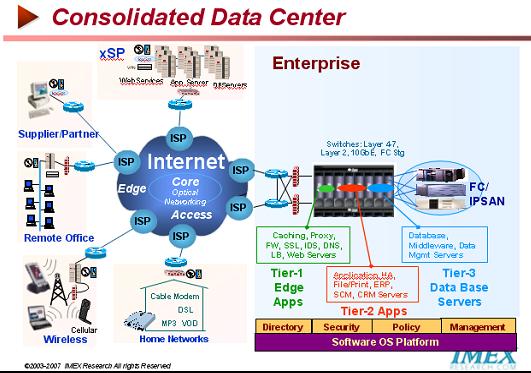 Virtualization Implementation Strategies
• Implement Virtualization in 3 phases. (1) Consolidate through Virtualization and Workload Management. (2) Pool and share resources to achieve HA/BC/DR, Workload Balancing and Automation and (3) Reduce number of systems footprints & OS instances since OSs lick costs and raise management administration costs)
• Automation. Create Business Policy Based Workload Management (Mission Critical, & Standard)
• For additional details, see IMEX industry Report -NexGen DataCenter 2008
.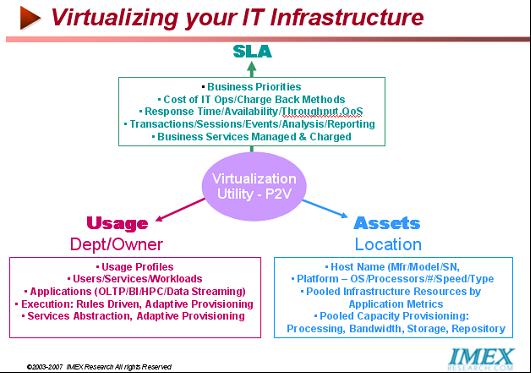 IMEX Industry Report - NextGen Data Center 2008
IMEX Research's Industry Report on NexGen DataCenter 2008 addresses the need to fully understand the directions of the IT industry vendors will take in formulating products to meet the need of the demands of CIOs and Datacenter operations.It enumerates a number of metrics for data center to achieve and provides detailed guidance for IT infrastructure vendors and IT decision makers (CIOs and operations managers) on how to optimally deploy compute, storage, intelligent information networks and software technologies that best support their mission needs through optimizing IT resources and business processes.
Subjects analyzed
• Datacenter technology trends: what are the technologies for the next-generation datacenter?
• Strategic vision: what issues, opportunities, and threats do datacenters forces as they plan for the next 5-10 years?
• Enterprise architecture: what are the datacenter infrastructure requirements for power and cooling, capacity planning,
change control processes, system utilization, compute density, and alternate power?
• Case Studies: Experiences of early adopters of implementing and managing data center using profiles of some leading US data centers
• Datacenter/infrastructure Vendors: Products, profiles and strategies.

Highlights include:
• Prescriptive guidance based on experiences of early adopters sharing their experiences of implementing and managing NGDC
• Planning and deployment from physical to virtual - migrating systems from a physical to a virtual IT infrastructure
• Storage - Strategies to ease storage management, improving data availability, creating a foundation for disaster recovery and business continuity
• Enterprise Application -- enterprise-oriented grid technologies meeting fluctuating application demands through a shared services architecture
• Desktops - Various approaches to virtualizing desktop systems and client applications - the challenges, costs and benefits
• Implementing and Managing Virtualization - best practices for configuring and managing virtualization in test, development and production environments

Major chapter include:
1. Executive Summary
2. Market Drivers and Industry Dynamics
3. Market Segments and Product Requirements
4. Market Forecast and Market Shares
5. Enabling Technologies and Standards
6. Competitive Products and Positioning
7. Major Suppliers Portfolio and Strategies
8. Go-to-Market Distribution Channels
9. Recommendations for Vendors, Channel Players, End Users & Investors plus
10. Methodology and References sections.